For those who aren't aware, I've been following five games on Kickstarter from their initial campaign to release (read more here) and thought now would be a good time to make an update.  Here's a quick look at the status of all of the Kickstarter games:
Blood Nor Water is currently halfway to its funding goal with sixteen days to go.  The developers recently showed off their turn-based tactical RPG at North Austin Game Night and got the feedback necessary to pull together a playable demo sometime in the near future.  No major development changes have occurred, but that is probably attributed to the team focusing primarily on meeting their Kickstarter goal.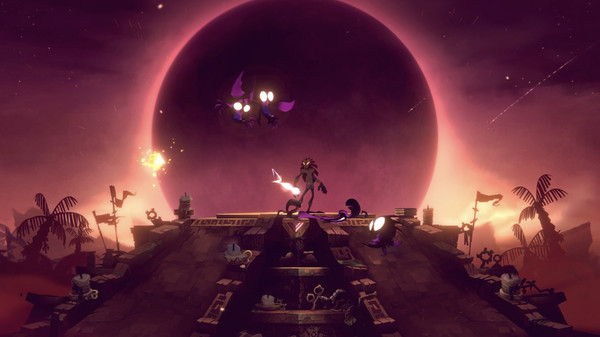 Source:  Inlight Steam page
Inlight has surpassed its goal with nineteen days left to go!  The developers are looking for a publisher for this side-scrolling action game that would allow them to release the game physically, which is something I would personally love.  They have also announced a variety of different stretch goals that include additional outfits, modes, and multiplayer.
Reimei no Gakuen is roughly seventy-five percent of the way to their goal with thirty-five days to go.  There is a demo available for this visual novel that I will be playing and giving impressions on before the Kickstarter campaign is over.  The developers are quite active and they are doing a really unique take on community outreach by having fans ask the game's characters questions.  I think this is a cool way to get potential backers through showing the personalities of the cast members and will be curious to read them all as more posts come out.
At this point, Boyfriend Dungeon has tripled its Kickstarter goal with nine days left to go.  The developers recently showed off their dungeon-crawling dating simulator at the PAX Indie Megabooth, so they are getting a lot of well-deserved attention for that.  Stretch goals are being reached, with the latest one reached being a bubble tea taste test with the developers and the next stretch goal being a new weapon love interest in the form of a hammer.
Max Gentlemen Sexy Business has nearly quintupled its original goal with twenty hours left to go.  The Victorian-era dating simulator hit a number of stretch goals, including voice acting, additional characters, and an extended endgame.  Now that this game is nearly out of its Kickstarter campaign and back to a normal development cycle, it will be interesting to see where this game goes from here.
Well, that's it for now!  I don't want these updates to be very long, since this is mostly information that is pretty easily accessed elsewhere.  Let me know if you're excited for any of these upcoming titles yourself, and make sure to show these games some love on Kickstarter!
Note:  This post is imported from a prior blog, HannieBee Games.